Crossing Gran Canaria
6 nights / 7 days
price and dates on request
"Crossing Gran Canaria"
Crossing Gran Canaria is a total immersion in the real local life. You will hardly believe that you are biking in Gran Canaria… We stay for 2 nights at 3 different locations while luggage follows. You'll imagine yourself in a different world each time. From a historic finca among the fruit trees, a rural hotel in the center of Tejeda to a luxury hotel on the rugged coast of Agaete. We combine all of that with biking on exciting single trails, camino reales, fire-roads with incredible panoramic views and we enjoy typical meals prepared by warm welcoming locals. This choice is a perfect mix of great mountain biking, unique accommodations and delicious cuisine.
Itinerary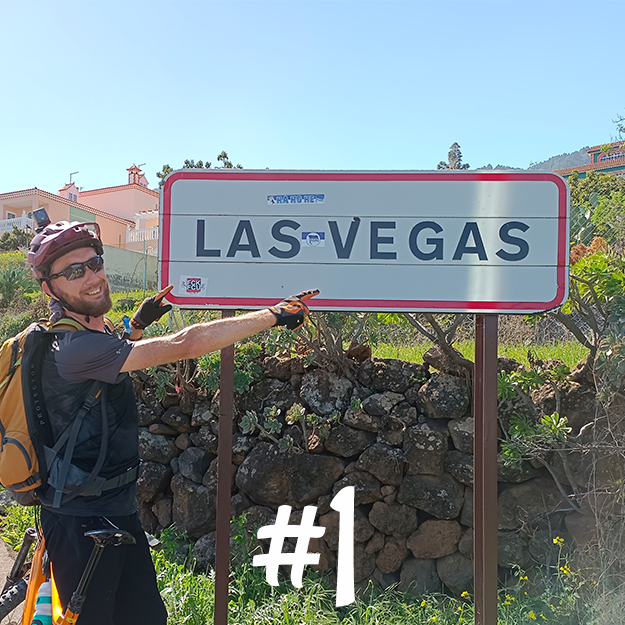 Day 1
Your guide awaits you at the airport and escort you to the first location: Las Vegas. Yes, you read that right, Las Vegas, a small town near Valsequillo. We will stay in Bejamin's historic farm "Finca Don Emilio". For those who can't wait to get on their bikes, we can do a first local tour to get used to your bike. But you can also just make the switch to local life and walk among the fruit trees and vineyards, the sheep and goats and explore this beautiful finca. The view is so beautiful that you'll feel relax immediately. We'll try Margarita's homemade cheese with freshly baked bread from the wood-fired oven and taste Bejamins 100% self produces natural wine. The dinner will be a farm experience to never forget.
Day 2
We start riding from the idyllic town of Valsequillo where we climb towards some beautiful single trails. Over Montaña de Las Palmas, with a beautiful panoramic view, we head towards bike park Tara to have some fun on flowy single trails down to the old town of San Juan. This town is so cute that we cruise a little through it and also take our lunch there before diving into the Baranco Real de Telde.
With a real jungle feeling, over thick boulders and between high massive rocks we bike towards Valsequillo again. We climb old camino reales through the orange, lemon and mango trees, where wonderful blossom scent will surround you! We arrive back at Finca Don Emilio around 4 pm, where a nice fresh beer awaits us. As well as a wonderful shower, steam bath and jacuzzi with a incredible view. To end an amazing day: Paella night!!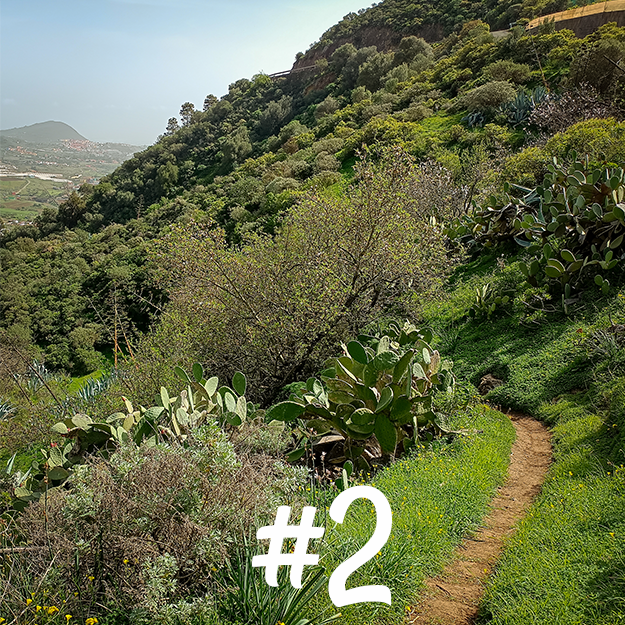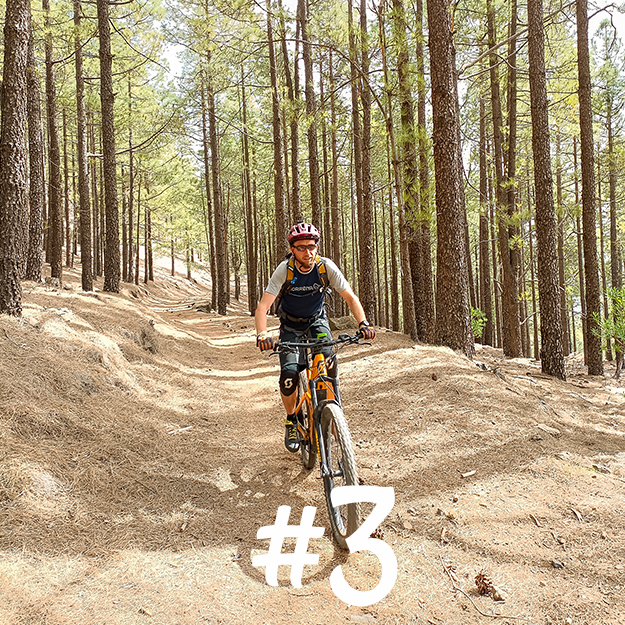 Day 3
After breakfast we load the luggage into the shuttle and leave for our next location. Today is the Queen stage that will require all our strength. We are literally Crossing Gran Canaria and climb to the Pico de las Nieves along beautiful fire-roads with spectacular views. At the Caldera de Los Marteles, our driver is waiting for us with a delicious well-deserved lunch. We continue the climb on a pista with tiny lava stones that feel like riding on a dune. Once we have reached "Pico de Las Nieves" the reward awaits us. We descend on exhilarating single trails towards Cruz de Tejeda and on to one of the most beautiful villages in Gran Canaria: Tejeda. Our accomodation is the only hotel here: hotel rural Fonda de la Tea. After a refreshing shower we have a well-deserved dinner in a local restaurant.
Day 4
We start the day with a gentle climb to Cruz de Tejeda along the road, to save energy. You'll thank us for that later. In Cruz de Tejeda the climbing continues a bit more but on some challenging single tracks. All of this is rewarded with an amazing trail descent towards Artenara, where it's time for lunch in the cozy village. We continue our trip down on a exciting single trail towards a flowy pista, going up and down, with very nice views on the Roque nublo and the Roque Bentayga. Finally, we descend along almost endless switchbacks to a small farm down in the valley and make the last steep final climb towards Tejeda. You'll feel it was a long day in the saddle… In the evening we have a delicious dinner in the idyllic center of Tejeda before we head off to a good night's sleep.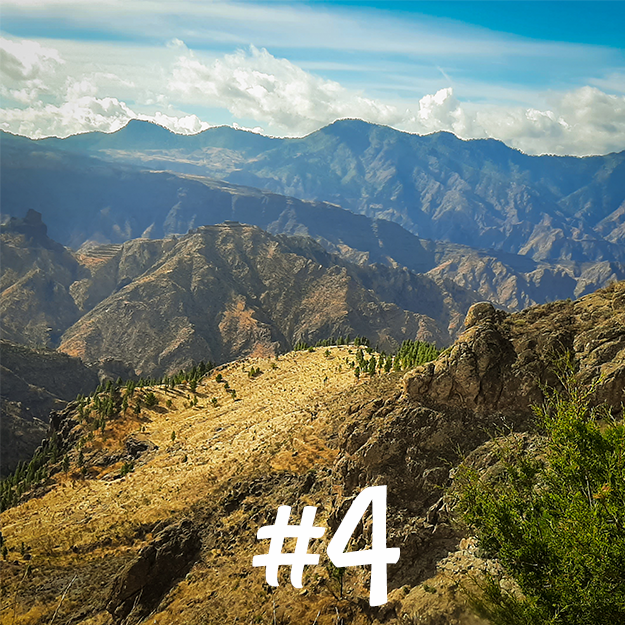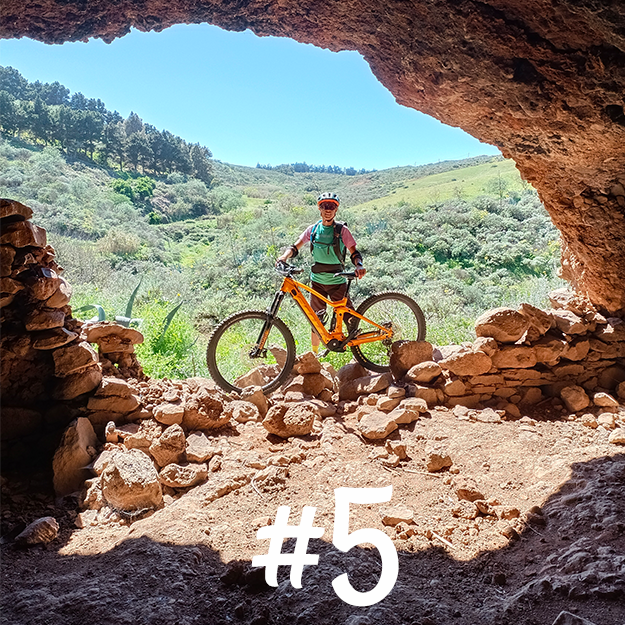 Day 5
Today we move to Agaete! Depending on the energy level we climb to Cruz de Tejeda over the road or on a lot more challenging off-road. Soon we turn to another direction for a day full of awesome trails. All types of terrain and a completely different landscape will surprise you again. Narrow sheppard paths lead us to Bascamao for lunch in a cave restaurant with a stunning view. Our "Advanced level" climbs back up a bit to cross a few calderas towards the enduro course of Agaete.
The "Intermediate level" keeps more flow and connects to the last single trails of the day along a beautiful scenic descent. These last trails bring us to the piscinas naturales of Agaete, where drinks await us at the beach bar. In the luxurious hotel Roca Negra you can recover in the wonderful spa or enjoy a well-deserved massage. Don't miss the sunset here because it's breathtaking! We have dinner in an ocean view restaurant where freshly caught fish is on the menu.
Day 6
For the last day of riding we'll go a bit easy on you… We start riding along a nice single trail and make the connection with Galdar as much on off-road as possible. The old capital of Gran Canaria and is without a doubt worth a visit and a coffee. Over thick boulders we head to "Playa de Bocabarranco" where lunch is served in a cozy local restaurant along the beach. Next up: a mix of cool single trails, flowy and rough pistas and small connections over the road with one consistency: a mighty view on the rough coastline.
We pass through a tiny fisherman village that appears straight out of a fairy-tale and have a break at the Faro de Punto Sardina. A steep narrow track over the mountain ridge brings us to more ocean side trails, the occasional bike-hiking, past a hippie house in the valley to end with a blast on the trails of the campionata de Gran Canaria. Dinner tonight in the city again but this time at 2 nice Italian ladies.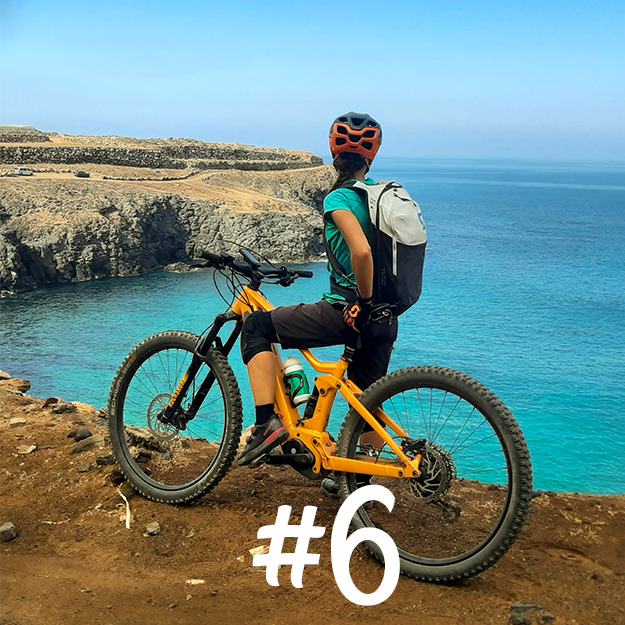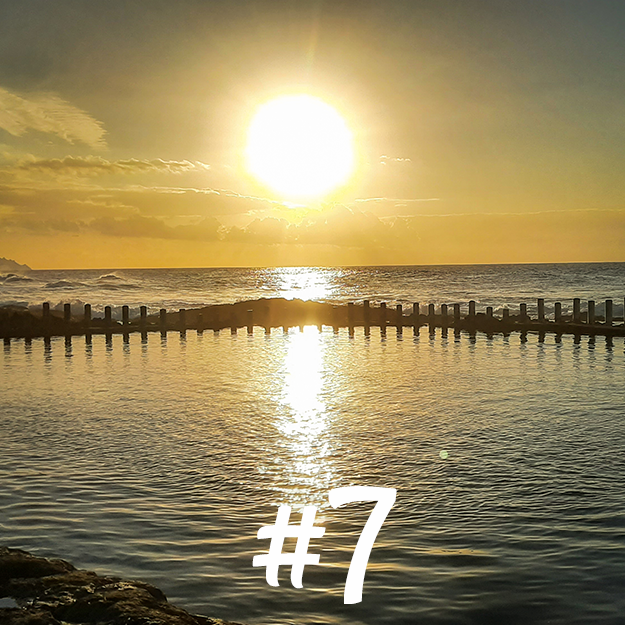 Day 7
All fairy tales come to an end and unfortunately we have to say goodbye today. No biking but maybe sleep in, have breakfast a little later and longer and some yoga?
Don't worry about bringing bikes back to the rental company or anything like that, we take care of it. Just enjoy your holiday until the last minute!
The shuttle will pick you up around 12h to take you back to the airport on time, so no stress.
Pictures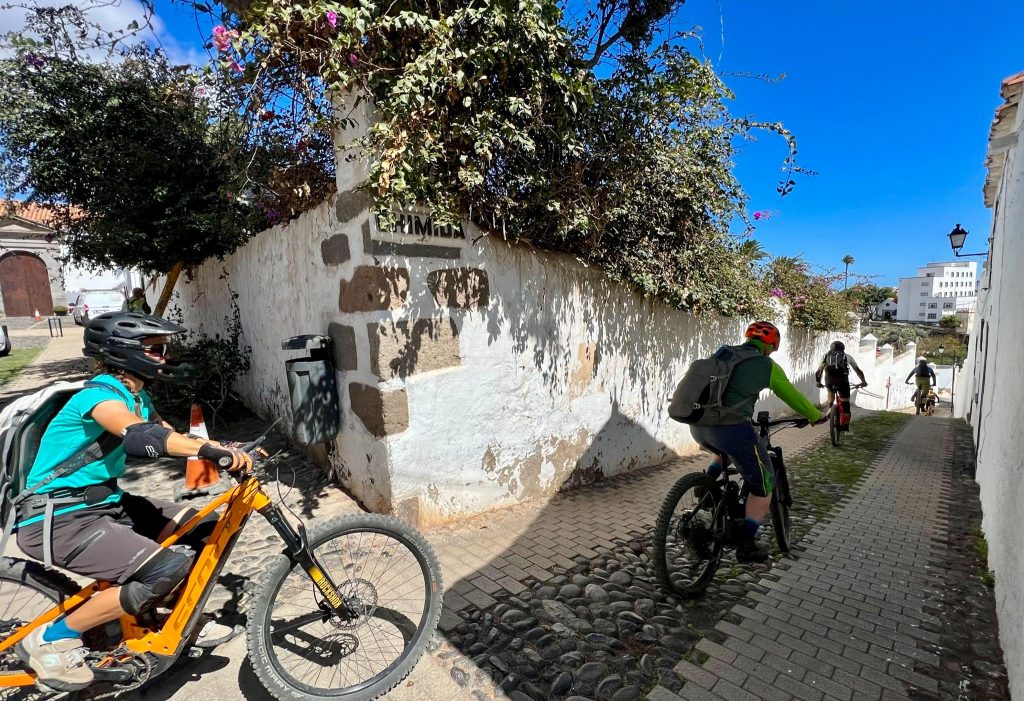 What's included?
Airport transfer to the first accommodation + back to the airport
Accommodation for 2 nights on each of the 3 locations

Finca rural Don Emilio in Las Vegas
Hotel Rural "Fonda de la Tea" in Tejeda
Hotel "Roca Negra" in Agaete

All breakfasts, lunches and dinners on riding days (on arrival-day dinner is included and on departure-day breakfast is included)
Water at the start of each ride to fill up bottles and drinking bladders
Support car with tools following during the day (on specified meeting points)
Spare bike travelling with us during the day (depending on the average size of the guests
Pick up and return of rental bikes
What's not included?
Flights to Gran Canaria and back
Drinks (alcoholic and non-alcoholic) during the day and with the meals (with exception of coffee or tea at breakfast)
Travel, cancellation and accident insurance
Rental bike
Optional
Single use of a double room is a supplement of 350€ for the whole stay
Required skill & fitness level explained
First of all an important reminder: riding an E-MTB does not substitute for any lack of skills or fitness. Our tours are designed for the best E-MTB experience, so you should expect to make the same physical effort as you would on a regular MTB. The extra engine support simply compensates for the extra challenges in our tours. As for riding skills, you need at least the same riding skills with an E-MTB as you need with a regular MTB. We ride our tours in general in ECO-mode with an exception of very steep or technical uphill parts to have the best chance on a battery that makes it through the day.
We offer "Crossing Gran Canaria" in 2 different skill levels because we (can) ride with 2 guides, so groups can split up to make each of you feel comfortable. Let's say that an average tour covers about 70% of the same routes in both levels and 30% makes the difference. Sometimes an extension is possible for advanced level.
Crossing Gran Canaria is NOT possible for inexperienced or beginner riders.
Intermediate level

We expect you to have at least 2 years of experience riding MTB or E-MTB and taking your bike offroad at least once a week during the season. You feel comfortable riding wider offroad tracks and flowy singletracks. Small rocks don't frighten you and you're not afraid of trying something a bit more technical with the correct guidance. But you feel comfortable knowing that you can choose to walk a tricky technical section. Physical wise you consider yourself fit enough to be on the E-MTB for about 6 hours a day (picture breaks and a 1h lunch included) for 5 consecutive days. You don't mind the (longer) climbing, as long as you can go on an easy pace.
Advanced level

We expect you to have at least 2 to 3 years of experience riding MTB or E-MTB. You take your bike out on the trails at least two or three times a week in the season. And you feel comfortable on most types of terrain: loose, rocky, root sections, exposed singletracks, tight switchbacks… Improving your skills is something you look forward to. Moderate rock gardens and taking small drops are no problem but where it gets too crazy you don't mind walking a section. Also climbing and descending steeper singletracks and small jumps don't scare you but just make you smile. Physical wise you consider yourself fit enough to be on the E-MBT for about 6 hours a day (picture breaks and 1h lunch included) for 5 consecutive days. A fair amount of (technical) climbing is absolutely no problem.
What to bring
We will send you a full packlist about 4 weeks before arrival, so you'll be well prepared for your winter adventure.